The two-hour time difference here had me awake pretty early. I started off with a great 8 oz. Americano downstairs at the in-house Stumptown along with an amazing bacon-cheese biscuit. Wherever they're getting their pastries from (I think it's
Nuvrei
) is doing a killer job.
From there I went over to Billy Wilson's
Barista
, a heavy-hitter here in Portland. It's a great-looking shop, and they're doing it right. Check it out: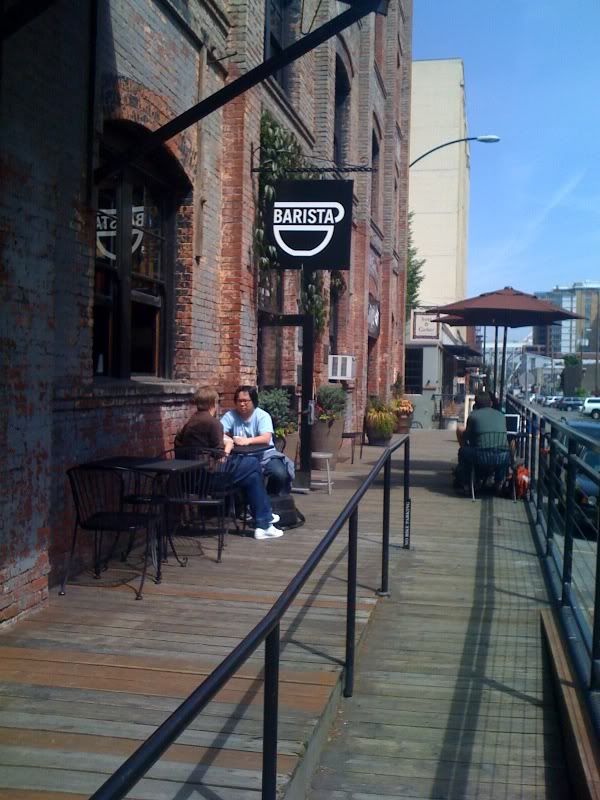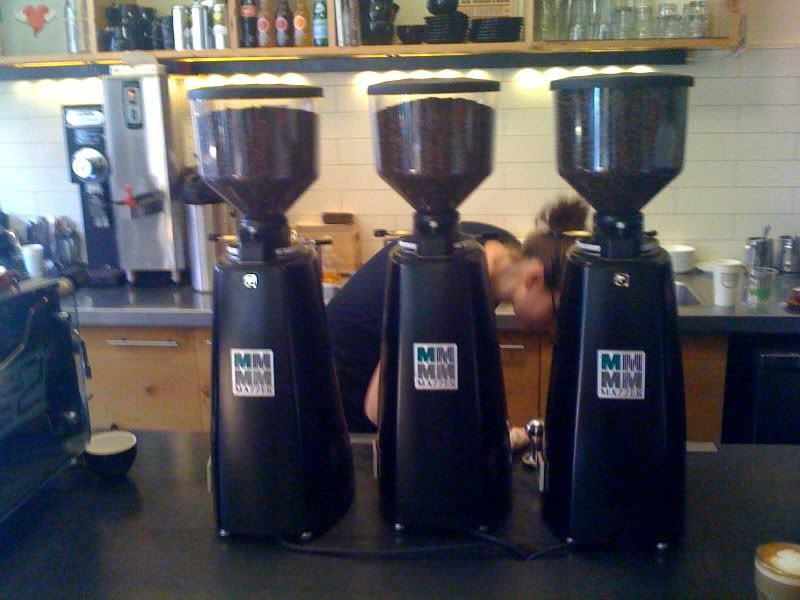 That's right, they've got three espressos on. I don't think any of them were decaf. I tried a
Coava
single origin, and it really hit me with some nice apple and chocolate flavors. I'm planning on checking out the recently opened
Barista II
on day three or four.
From there I went over to
Sip & Kranz
, a coffee and wine bar also in the Pearl District. I went ahead and had another double shot of Stumptown's Hair Bender (might as well have as much as I can while I'm here). They had a couple of beers on tap and in bottle as well as a couple of wines, so I asked the barista if they did a lot of beer and wine business. She looked a little dismayed as she told me that she felt like people didn't really know they were open in the evenings, so it wasn't a huge part of their business as of now. Here's Sip & Kranz: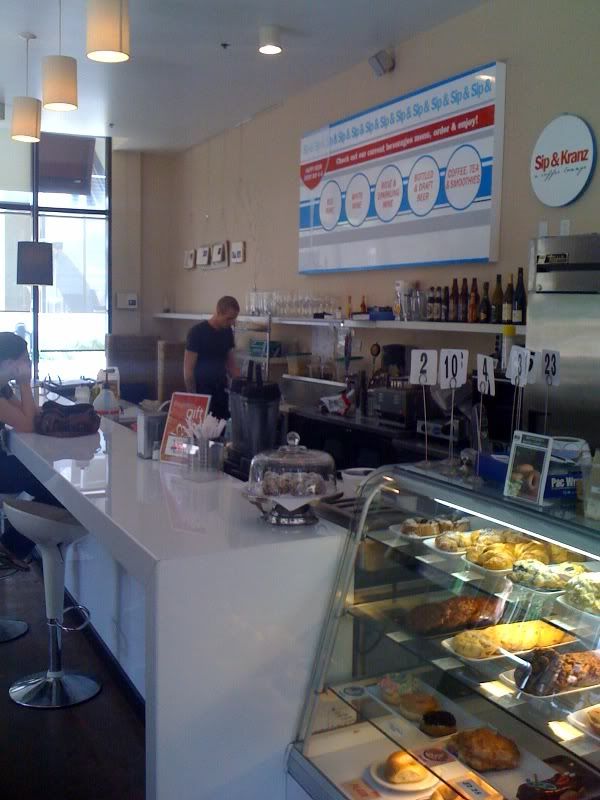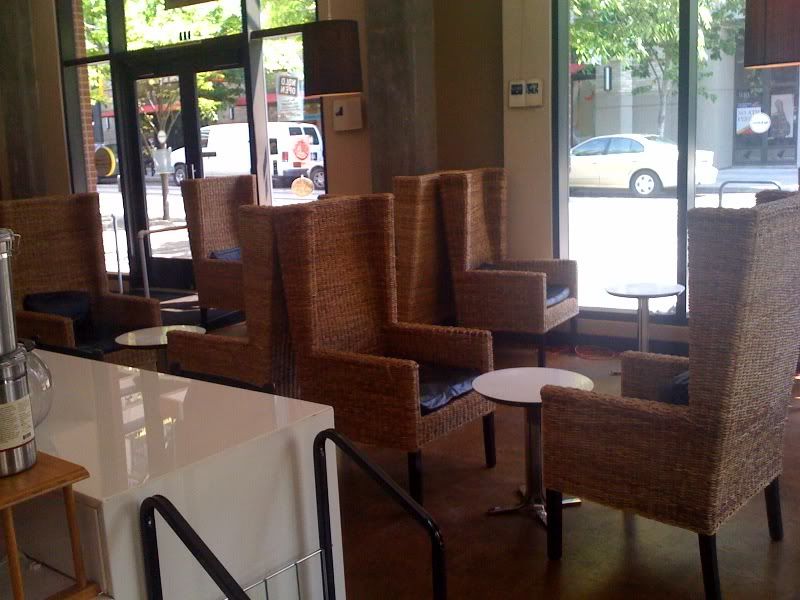 The obvious thing to me here is that while this place is spacious and charming, it feels like a cafe or coffee shop, not a place to drink beer and wine. One of the main things that I find is a struggle with shops who want to do both beer and coffee is that they usually do one with full force and the other almost as an afterthought.
Which brings me to
Blitz
. I might have just passed Blitz by if it weren't for the giant
Gimme! Coffee
sign out front. I walked up to the bar and chatted with the bartender/barista and found that they also serve
Doma Coffee
, which is a roaster out of Idaho. I had a double shot of the Doma (very smooth!) and a pint of the
Mack and Jack's African Amber
. I hadn't had the African Amber before, but it was a nice beer, with a citrusy sweetness and good mouthfeel.
It's definitely worth noting that while Sip & Kranz was definitely more of a cafe that served beer and wine, Blitz is definitely a bar that also serves coffee. Props to the owners for getting me in the door and for putting a little effort into their coffee. (I also thought it was cool that they went out of their way to serve Doma and Gimme! given that everyone else in town serves Stumptown.)
Blitz: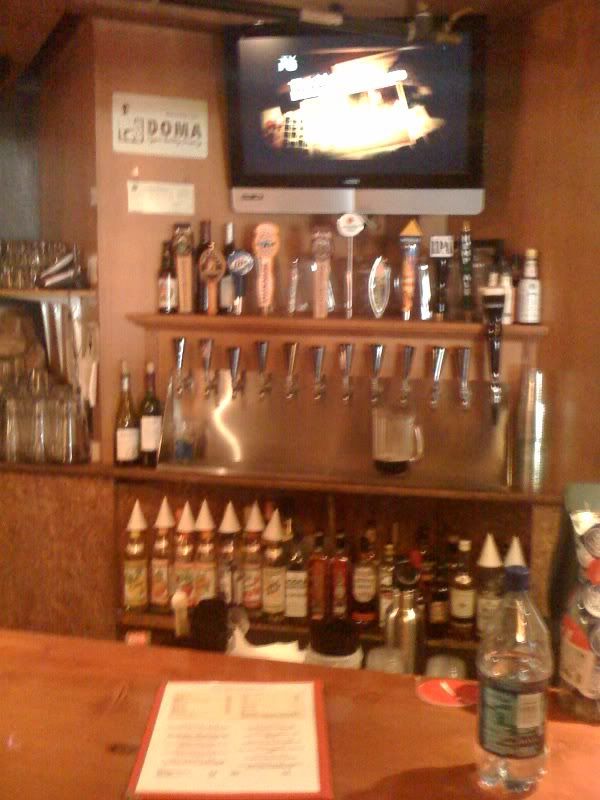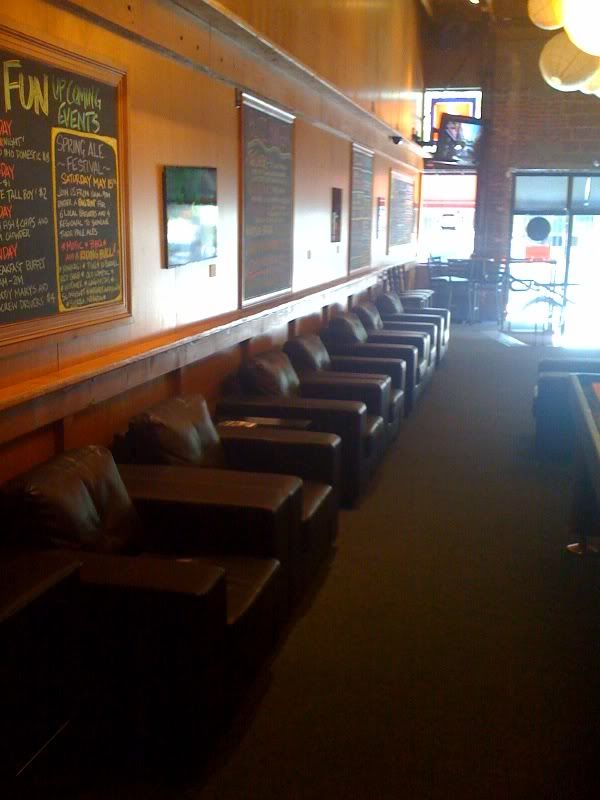 Now it's lunch time. If you haven't heard about the giant square of food trucks in the Pearl District, it's definitely worth noting. It's basically just that: A few dozen different food trailers that line the perimeter of a city parking lot. This place was swarming with people during Monday's lunch. Greek, Vietnamese, Korean, Polish, burgers, sandwiches, coffee, yogurt, pretty much everything you could ask for. It's like the South Congress trailer area on steroids. I got an amazing gyro and ravenously ate it while sitting on the curb.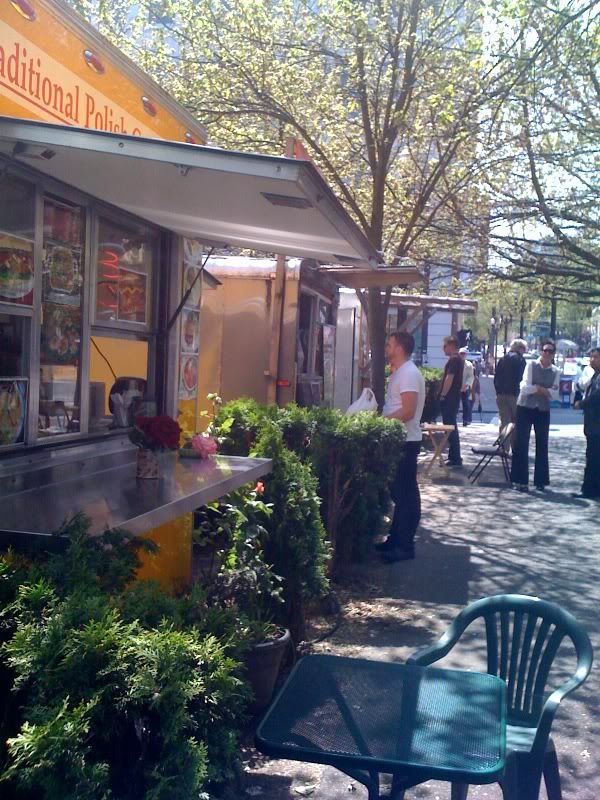 There's plenty more for day two, but I'll go ahead and break this post up into two parts, especially since the rest of the day mostly involves drinking beer at some of Portland's coolest brewpubs.